We understand your challenges

Running a finance department means juggling ongoing challenges:
Our Solutions

We love helping finance departments thrive!
Tap into our team of industry & product experts for your full service consulting, staffing, and financial report automation solutions. We're committed to providing the guidance, tools, and services that foster lifelong success for your finance team.
Accounting Services
Whether you need help with your month-end close, year-end close, bank reconciliations, or general bookkeeping – we'll help as much or as little as needed.
GASB Implementation
GASB consistently releases updates to its standards, yet the cumulative changes pose challenges in staying current.
ERP Implementation and Redeployment
ERP Implementation and Redeployment
Whether you have a current ERP system that you need customized or are looking to implement a new solution, we'll assess where you are now and where you want to go and select the right solutions for you.
If your organization is constrained to one ERP due to contracts and other circumstances, you may need ERP Redeployment: the process of reallocating or reassigning resources within the ERP system to better meet your changing needs or priorities. This can involve shifting personnel, financial resources, or technological components within the ERP framework.
Audit and ACFR Prep
Navigating through audit preparations can feel like an additional responsibility stacked on your already busy plate, but it's an essential task. From meticulous planning to the organization of crucial documents, and rigorous testing, the audit preparation process is a necessary step toward ensuring compliance and success.
Whether you're dealing with a surge in new team members or facing staffing challenges, investing time in thorough audit preparation is the key to a seamless and successful audit experience. We'll guide you through this crucial process, making it a streamlined and manageable endeavor, even in the face of staffing constraints or team transitions.
Policies and Procedures
Revitalize your organization's operational backbone by enhancing your policies and procedures. Ensure your protocols are not only current but also streamlined for maximum efficiency, all meticulously documented for easy reference for both seasoned professionals and new hires. Our collaborative approach involves working closely with your team, providing a fresh perspective to identify areas of improvement.
Education & Training
Keeping up to date on the latest GASB pronouncements, best practices and other current topics through a series of videos, templates and guides.
Staffing
Experts and specialists ready to help you need when you need it. During strenuous times or major upheavals like new hires, software changes, new GAAP/GASB pronouncements, you may need some help with your workload.
LSL's interim staffing solutions provide temporary and long-term staffing support so you can outsource as little or as much as you want. Our consulting & staffing solutions are customized to help you with regular, on-going challenges or for a one-time project.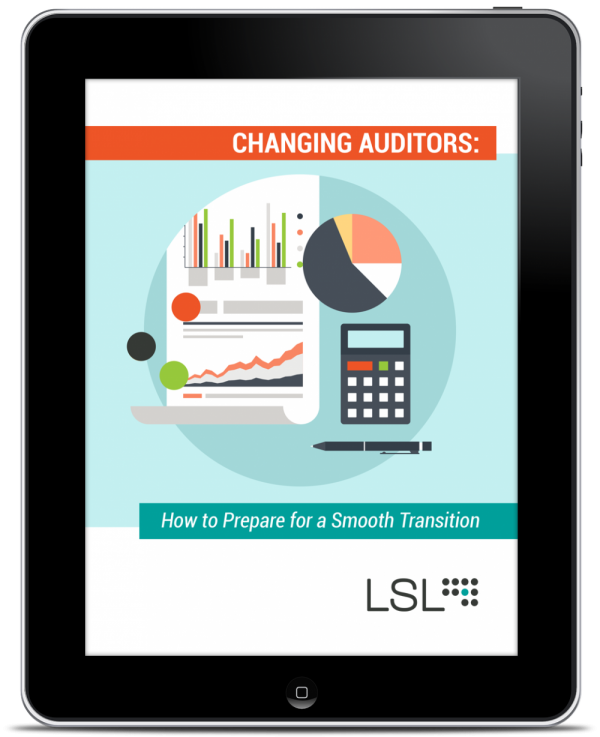 How to Change Auditors
Take the hassle out of changing auditors
Our step-by-step guide shows you how to prepare to make the changes smoothly.
Meet Your Team

Yes, we're auditors. But we want to be a year-round resource to you, building relationships that last past the life of the contract – an extension of your organization.