We understand your challenges

Running a finance department means juggling ongoing challenges:
Our Solutions

We love helping finance departments thrive!
Whether you only need an audit or are looking for help with bigger challenges, we have you covered. Think of us as your resource for ever-changing compliance, regulations, new GASB'S and technology.
Getting the compliance work done is the first step.
We prepare Annual Comprehensive Financial Reports as well as Single Audits under OMB Circular A-133 and the new uniform guidance.
Streamline your processes, systems, policies & procedures to reduce activities that cost staff time and money.
We'll help you automate the redundant day-to-day tasks and improve efficiencies in your department so you can focus on the bigger picture. We'll also share what other organizations are doing to manage budgets, pension costs and other shared challenges, and connect you to others who can help.
Experts and specialists at your disposal to give you the help you need when you need it
During strenuous times or major upheavals like new hires, software changes, new GAAP/GASB pronouncements, you may need some help with your workload.
LSL's interim staffing solutions provide temporary and long-term staffing support so you can outsource as little or as much as you want.
Our consulting & staffing solutions are customized to help you with regular, on-going challenges or for a one-time project.
Keeping up to date on the latest GASB pronouncements, best practices and other current topics through a series of videos, templates and guides.
All designed to support staff accountant managers, controllers & CFO's.
Get comprehensive, monthly reports providing rations, budget vs. actual, cash balances, key performance indicators and more.
Our customized report templates save you time, manpower and resources.
Automation = Cost Reduction
Increase efficiency and improve controls by leveraging technology. We'll assist and advise on ERP implementation, process automation, enhanced reporting and cloud strategies that fit your needs.
What Our Clients are Saying

"LSL is responsive to requests, and a record of fair, independent analysis."
Menlo Park ~ Dan Jacobson
"LSL has always and continues to provide excellent service to their clients. They never hesitate to look into inquiries presented to them and aid their clients whenever possible. They develop health, meaningful relationships with their clients, and strive to maintain those relationships as long as needed. Their customer service is outstanding."
City of Grand Terrace ~ Cynthia Fortune
"The main thing that separates LSL from other firms is the personality and helpfulness of your staff. Also, the commitment of your team to meeting deadlines and staying abreast of current issues."
City of Agoura Hills ~ Christy Pinuelas
"LSL auditors are extremely knowledgeable and provide a very thorough audit along with any recommendations they see for improvement. They are always open for any questions we may have regarding the right accounting treatment and are always responsive to our requests."
City of Camarillo ~ Brian Richie
"I have over 25 years of experience working with LSL, both at my current city, as well as two other cities I have been employed at since the 1990's. LSL auditors have consistently been very helpful and professional during audits, and in helping us implement new GASB's which can be very complex. They have always been a great resource for assistance with questions and unique accounting issues that have come up."
City of Irwindale ~ Eva Carreon
"Well educated and personable staff."
Monterey Peninsula Airport District (MPAD) ~ Tim Bergholz
"Well educated and personable staff."
Monterey Peninsula Airport District (MPAD) ~ Tim Bergholz
"Professional, knowledgeable, consistent excellent client customer service."
City of Oceanside ~ Jane McPherson
"Brandon Young & Amira Khodari provide excellent, technical and proactive service. Amira is very good at keeping communications open throughout field work."
Santa Clarita Valley Water Agency ~ Amy Aguer
"Strong communication skills, we as a client are regularly communicated on the progress and status of the audit. Great interpersonal skills as well."
Citrus Heights ~ Rajneil Prasad
"Exceptional responsiveness, professionalism, subject matter expertise and humor! Every one of the representative from LSL have been brilliant to work with and incredibly helpful in meeting our (often) compressed schedules for production of the CAFR."
Union Sanitary District ~ Laurie Brenner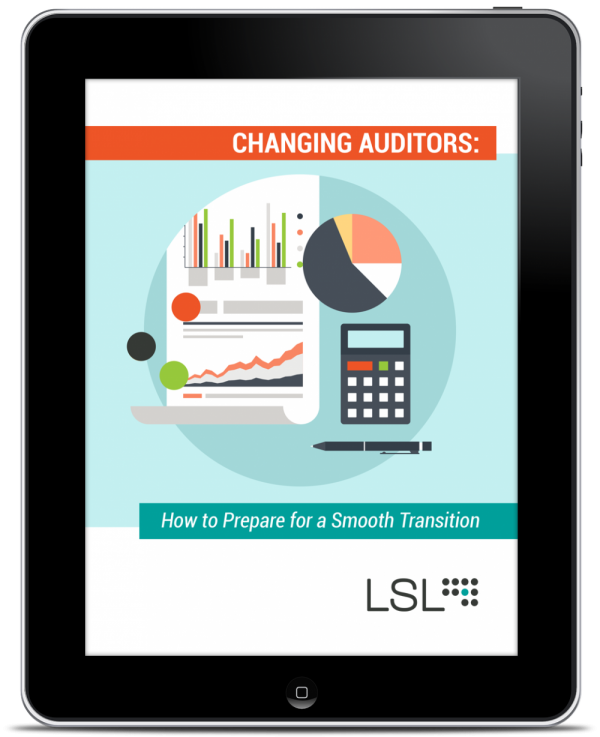 Take the hassle out of changing auditors
Our step-by-step guide shows you how to prepare to make the changes smoothly.
Who We Work With

We support finance directors, controllers and their department staff to meet regulatory reporting requirements, evolve their technology and stay up-to-date on the latest training.
Our Process To Working With You

Meet Your Team

Yes, we're auditors. But we want to be a year-round resource to you, building relationships that last past the life of the contract – an extension of your organization.
Be A Thought Leader

Save time and money by automating the redundant. Improve budget management through customized reporting and information available to you. Know your compliance requirements are in the right hands.