In a previous blog post, we explored the exciting world of Caseware's Cloud Hybrid and its potential to revolutionize your workflow. Today, we're taking it up a notch by introducing you to the world of Cloud integrations that will supercharge your Cloud Hybrid experience. 
Say Goodbye to Data Collection Hassles
Ask any auditor, and they'll tell you that collecting client data can be a real headache. It might sound like a simple task, but it's a messy, inefficient process. Emails, zip drives, or traditional file-sharing systems simply don't cut it. They lack the magic of automation, transparency, and easy management. 
But fear not, because we have a game-changer for you! Within your Caseware Essentials bundle lies a powerful gem – PBC, also known as queries. This gem allows you to effortlessly request, receive, and manage client-prepared documents right from your Working Paper file. With a built-in approval process, collaboration with your clients has never been smoother, all within the Caseware ecosystem. And the cherry on top? You can effortlessly track the status of all your requests. 
PBC: Your Ultimate Request Management Tool
The PBC app is your knight in shining armor, designed to help firms manage various request types using customizable templates. This templated approach ensures consistency while allowing teams to tailor requests to their clients' specific needs. 
While other products may offer more features (remember software evolution), none can seamlessly integrate with Cloud Hybrid like PBC does. It's been designed from the ground up to fit seamlessly into your workflow. 
Request, Receive, and Review – All in One Place
Starting a request is a breeze. You can start it through your Working Paper file, whether as an individual or a batch process. Your clients will receive a secure email with direct links to the request, making their lives easier.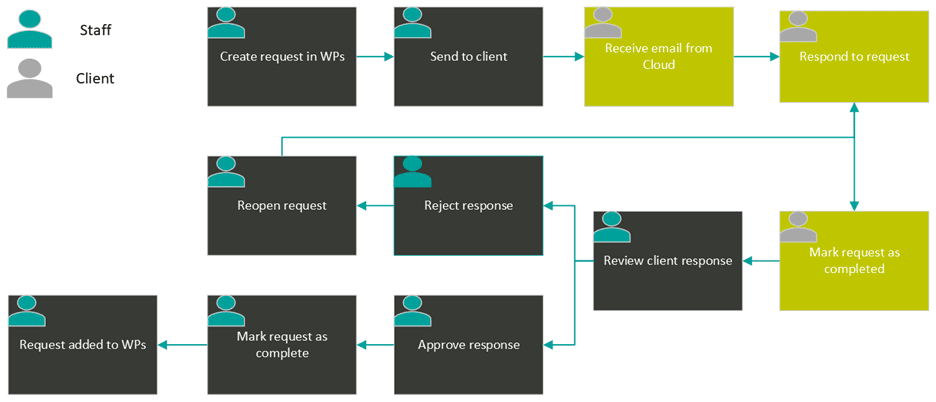 The built-in comment function allows your team and clients to communicate securely, ironing out any kinks in the collection process. Then comes the magic: the review and approval process take place within the Cloud ecosystem, and just like that, the document is added to your Working Paper file. 
Efficiency isn't just for the auditor – PBC introduces an e-signature function. Your clients can electronically sign documents, such as engagement letters, within the request. No more tedious downloads and uploads to another solution. It's seamless and efficient. 
Empower Your Entire Team
Now, here's the exciting part. We understand that not everyone on your team has a license for Working Papers and that administrative staff may handle the data collection for your teams. That's where PBC truly shines. It's a Cloud app, this means that administrators can efficiently manage the entire process directly in the Cloud, making your workflow smoother than ever.  
Introducing Accomplish: Your Engagement Management Sidekick
But wait, there's more! To streamline your engagement management even further, we present to you Accomplish, also part of the Essentials bundle. Accomplish offers unparalleled visibility into your work across all platforms. Whether you're all-in on Hybrid Cloud, Cloud-only, or a blend of both, Accomplish seamlessly fits your needs. 
Through interactive dashboards and intuitive drag-and-drop cards, Accomplish gives you a bird's-eye view of all your work. It empowers you to: 
Effectively manage your team and time.

 

Meet deadlines with ease.

 

Balance workloads like a pro.

 
Whether you're focusing on a single engagement, an industry, or your entire practice, Accomplish supplies the visibility you need to boost productivity and confidence. 
Remember those PBC requests we talked about earlier? Accomplish simplifies tracking these requests across your entire firm, making your workflow smoother and more efficient. 
So, there you have it, the dynamic duo of PBC and Accomplish, seamlessly enhancing your workflow. Unleash their power today and watch your efficiency soar to new heights! If you have any questions, contact LSL today!