Search for Transactions in QuickBooks - Desktop & Online
Desktop Tip: Quick and easy way to search for transactions.
Click 'Edit' tab at the top Left and click 'Find'. You can see the filter gives you a bunch of categories to choose from. Most commonly used is the 'Amount' that is illustrated below.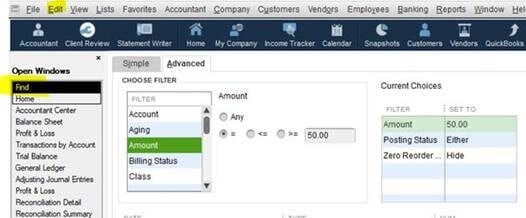 QBO Tip: Advanced Search Option to find transactions.
You click on the magnifying glass than click on the 'Advanced Search'. Your options are endless – the first filter you can select 'All Transactions', 'Check', 'Invoice', 'Deposit', 'Payment', etc. The second filter can be 'Amount', 'Invoice', 'Memo Description', etc.

What you'll get: